Just like everything else, it seems that the cost of groceries is constantly on the rise. For many, groceries are a significant part of your total budget. But with a little more effort and intention, there are ways you can save, even with the rising costs of food. Check out our 15 simple ways to save money on groceries so that you can put more of your hard-earned dollars back into your wallet.
1. Buy in Bulk
Bulk buying can significantly reduce your price per pound or unit. You can buy many products in bulk from club stores or supermarkets that have bulk food aisles or family packs. Winco, for example, has a massive bulk section that allows you to get just the amount you need without having to pay for the built-in cost of expensive packaging. Costco offers larger-than-usual products that can help you save when shopping for the family or a large group event. Just be sure that you are purchasing foods that you know you and your family can eat before the expiration. Otherwise, the money spent on wasted food will skyrocket your grocery budget.
2. Use Those Coupons
You can find coupons just about everywhere and they can save you lots of money when it comes to your groceries. Look in your local Sunday paper, on sites such as coupons.com and grocerycouponnetwork.com, or through apps, such as SnipSnap for updated offers. Couponing is a long game – the more consistently you use them over time, the more you'll see your saving accumulate. Who knows, maybe you will become the next extreme couponer!
3. Become a Rewards Member
Join loyalty or rewards programs that are available at your local grocery stores. They are typically free to sign up for and offer additional discounts and coupons for use on your purchase. The more you shop at that store, the better coupons you will receive.
4. Plan Your Weekly Meals
One of the easiest ways to save money on groceries is by planning out your meals for the week. This will help you make a list that include only items you will use. Winging at the store can cause you to end up with many things you don't really need. This also leads to wasted food, which equates to throwing your money in the garbage!
5. Stretch Your Ingredients
Buy ingredients you can use for multiple meals. With staple items you can use more than once, you'll be sure to make use of all of it, with little to no waste. A bag of rice will give you a side for around three meals, depending on the size of the group you are feeding, and is an inexpensive staple to keep around.
6. Create a Grocery List
Make your list and stick to it when shopping. It can be easy too go off-list when you see the snack aisle staring straight at you, or you remember the Pinterest recipe that you keep meaning to try. But going off the list can add a significant amount of unintended items, pushing you way over budget. Stick to your list to save money on groceries and also save yourself the frustration of coming home with more food than you could ever eat.
7. Shop the Sales
A great way to save money on groceries is by shopping the sales. Find stores that offer special deals on the items you need or frequently use and stock up. Just make sure that you will use the items you buy, otherwise they will sit on a shelf and eventually be thrown away.
8. Go for the Price Match
Many stores now offer a price match to stay competitive and keep your business. Even if you are unsure, check with a cashier – you may be pleasantly surprised to know that they will match your prices. Be sure to bring in a coupon or image of the offer, so the cashier at the register can verify your prices.
9. Make Fewer Grocery Trips
It seems that every time you go to the grocery store, you come home with something you don't need. If you multiply this by extra trips to the store a week, it can quickly add up. Stick to your designated grocery store trips for when you need to do your serious grocery shopping. If you do need to make an extra trip to the store, only buy what you need and don't waste your money on extras.
10. Avoid Prepackaged Foods
While these options are quick and easy, they are significantly more expensive when you calculate the cost per meal. Ditching the TV dinners can amount to a lot of savings at the end of the month. Find recipes that you can prep ahead of time, and then reheat in the microwave or oven. Much like the TV dinners, they are convenient and filling, but they will save you on the cost of groceries because the cost per meal is significantly reduced.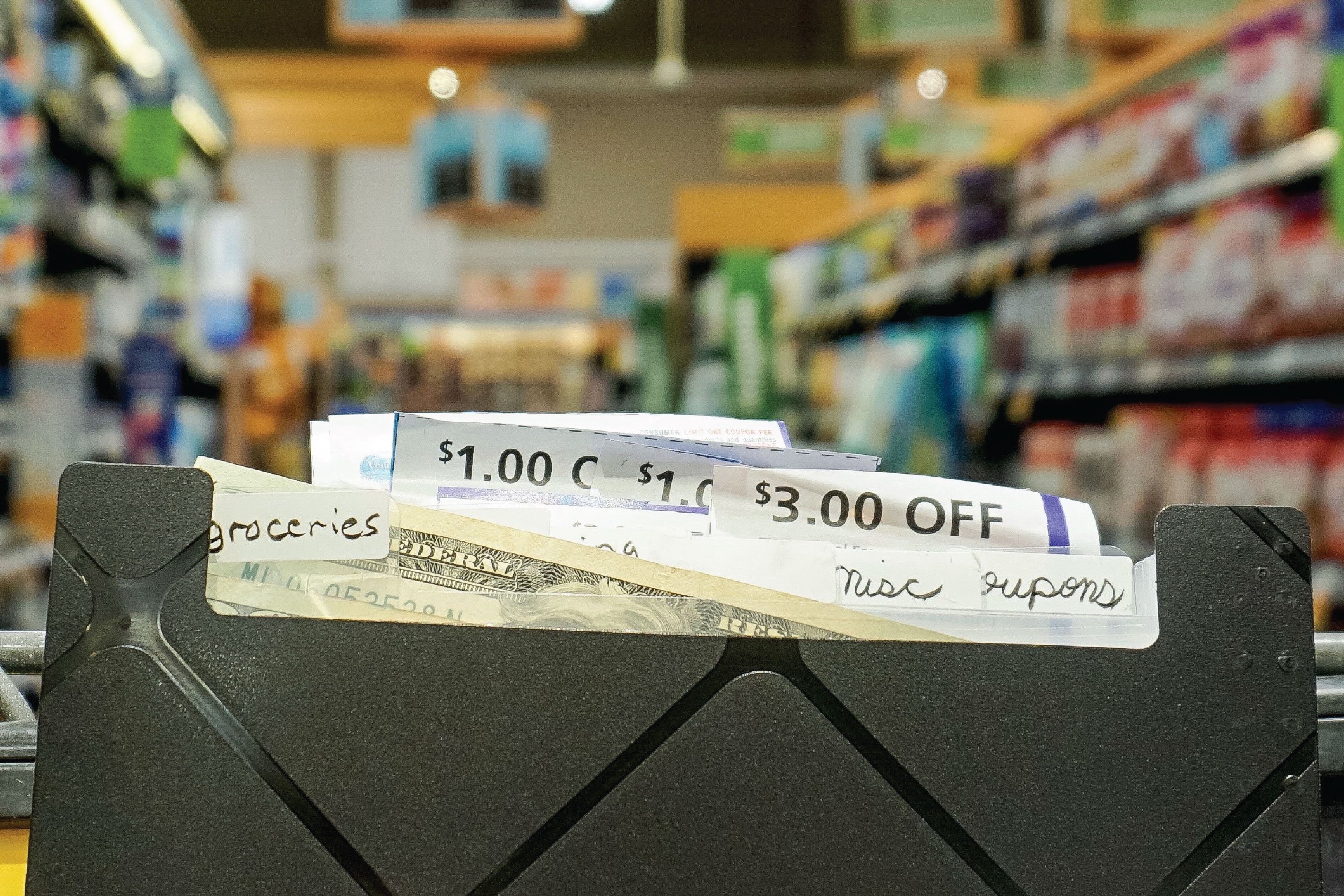 11. Don't Shop on an Empty Stomach
Shopping when you're hungry will cause you to impulse buy simply because you are hungry and the item looks appetizing. Eat a snack before heading to the grocery store to curb your hunger and reduce your impulse buys. You will be more likely to stick to your list when you are not hungry, which will save you at the grocery store.
12. Check the Price Per Unit
Sometimes stores can entice you with larger containers that cost more in the end. Instead of only looking at the price, calculate the price per unit, and you may find that smaller packaging sometimes has bigger savings. Some stores have even started listing the price per unit, price per ounce, or price per other units of measure. Make sure you are comparing your options and choosing the ones that are the most cost-effective in the end.
13. Buy Generic Options
Buying generic items is a great way to save money on groceries. It is important not to get hung up on a brand when the ingredients are virtually the same. This is especially true when buying staples like canned goods, rice and pasta, condiments or baking ingredients. Most of the time, the generic option is the cheapest option because you are not paying for the brand name. This is an easy way to save at the grocery store without limiting your menu.
14. Make Your Shopping Trips Alone
Shopping with children or other family members will fill your cart quicker than you'd like – generally with items you never intended to buy in the first place. It's to fly solo at the grocery store to avoid unnecessary items and stay on track.
15. Buy Seasonally
Buying fruits and vegetables that are in season will give you the best value and the tastiest produce. Prices jump when you buy out-of-season produce because it costs more to produce and import. Stick to in-season fruits and veggies to keep your costs low and also mix up the produce that you bring home.
By using these tips and shopping smarter, you'll be able to save your cash for other financial goals like buying a car or home, going back to school, or starting a family or a business. You'll find that once you get into the habit of shopping with these guidelines in mind, it starts to come naturally.
For more money-saving tips from your local community credit union, subscribe to our blog.
If you enjoyed this blog, you might enjoy these other related blogs:
<<< Return To Blog