Not all of us want to travel to exotic places and not all of us can afford it! So, what are we supposed to do when kids have a day off or the travel bug bites and you can't get away for too long? Find a low-key destination in Montana and enjoy the unique, ever changing sites Montana offers. Following are my favorite "Day Trips" in Montana to inspire your next adventure.
1. Philipsburg

Photo: http://philipsburgmt.com/
"P-Burg" may be the cutest small town in Montana. With stunning views and a quaint main street, historic Phillipsburg offers a little something for everyone. P-Burg is an old mining town from the 19th Century and was once voted among the Prettiest Painted Places in America.
One of the coolest things to do in Philipsburg is Sapphire Mining. Sapphire mining in the area dates back approximately 120 years. Although Montana is home to four major sapphire deposits, the Philipsburg Rock Creek deposit has been the largest producer by far, producing four times more sapphire than all other Montana deposits combined. Check out Gem Mountain Mine and see what treasures you can dig up!
Looking for something a little sweet while visiting P-Burg? The famous Sweet Palace destination candy store has everything your sweet tooth could possibly desire. The aroma of freshly made candies will arouse your senses and the elegance of the Victorian décor will take you back to another century. Sweet Palace has something for everyone and yes, they ship all over the world.
Finally, my favorite thing in Philipsburg has to be Philipsburg Brewing. They offer tons of beer to choose from no matter your mood, but they brew my personal favorite, Haybag Hefe. Citrusy and dry, this wheat beer uses 40% malted white wheat from Washington to give a mouthful of cereal flavor, all while being incredibly drinkable and thirst-quenching. Cascade and Willamette hops provide grassy citrus flavors and aromas. The special yeast strain stays in suspension for that signature cloudiness.
2. Virginia City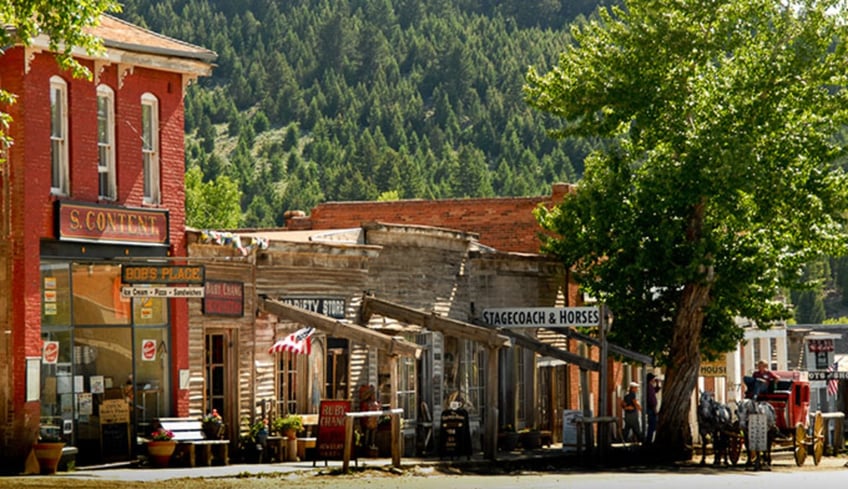 Photo: Virginia City, Montana. Photo by Donnie Sexton https://www.yellowstonepark.com/things-to-do/ghost-town
Virginia City is in Southwest Montana and is an easy drive from anywhere in the Helena region. The tagline, "Where the old west lives on," could not be truer. Virginia City is a family-friendly destination year-round, but we love it in the Spring and Summer especially.
Check out a Fire Engine Tour of the city and enjoy a half hour of unique and historical entertainment.
Or ride the train from Virginia City to Nevada City. The Virginia City Shortline Railroad was built by Charlie Bovey in 1964 to connect Virginia City to Nevada City - a mile and a half away. Today, the Virginia City Shortline, a 20-minute train ride, is a great opportunity to enjoy the scenery and learn about the surrounding area.
3. Crystal Park

Photo: Crystal Park https://yellowstone.natgeotourism.com/content/crystal-park/yel3c194cd9472eface9
Located in the Pioneer Mountains, Crystal Park is a beautiful place to spend a day. At over 7,000 feet above sea level, it is just a quick drive from Dillon. Quartz crystals are scattered liberally through the decomposed granite of the unique 220-acre site that's been reserved by the Forest Service for the popular hobby of rockhounding. Quartz crystals are hexagonal (six-sided) prisms, with a pointed "face" at each end. The crystals found at Crystal Park can be clear, cloudy, white, gray or purple. They can be smaller than your little finger or up to several inches in diameter. Gray, purple and other colors are caused by minerals within the quartz. Gray crystals are known as "smoky" and the highly-prized purple ones are called amethyst. Single crystals are most common at Crystal Park. Most of the crystals have little value other than as collector's items.
4. Holland Falls in Holland Lake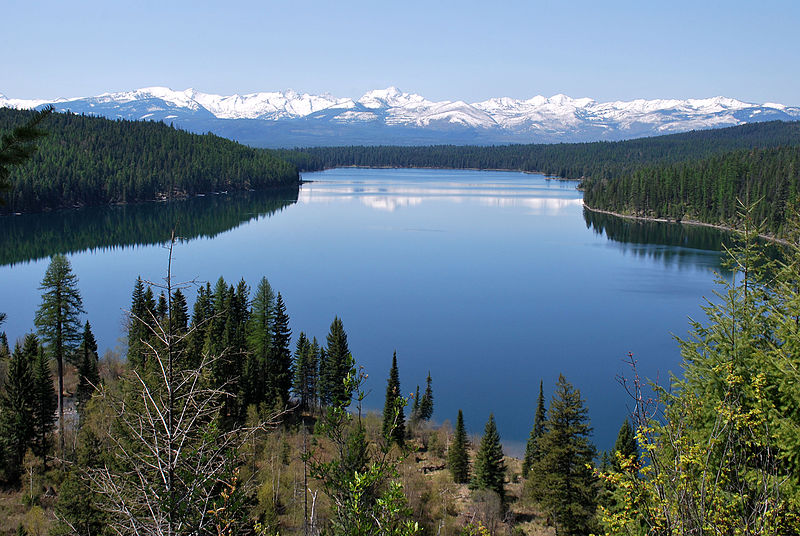 Photo: Forest Service - Northern Region at https://flickr.com/photos/40882383@N03/7184739665
Located in the Seeley-Swan Valley, Holland Lake and Holland Falls are a beautiful, day trip. Holland Falls is a popular, easy day hike located near Holland Lake. The trail starts at the end of the parking area to the right, follow this trail for 500 feet to the trail junction, continue straight following signs for Trail #416. This trail is 1.6 miles and climbs 750 feet. It follows the shoreline of Holland Lake and gradually climbs to the base of the falls. The hike is beautiful and if you feel like turning your day trip into an overnight trip, the campground at Holland Lake is also spectacular.
5.
Gardiner

Photo: Gardiner, MT http://www.visitgardinermt.com/about/gardiner-chamber-of-commerce/chamber-newsletters
Also the most famous entrance to Yellowstone National Park, Gardiner is an incredible little town in Montana. Gardiner boasts some of the best fly-fishing and hiking in the state as well as some amazing scenery. Check out a Whitewater Rafting adventure while you are in Gardiner in the summer The Yellowstone River (Class 1-111) is a wide and scenic river featuring big splashy waves and mountain vista views.
6. Martinsdale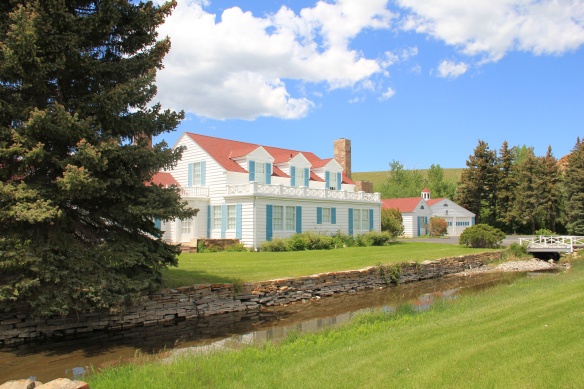 Photo: Bair Ranch https://montanahistoriclandscape.com/2015/04/28/the-bair-ranch-of-martinsdale-montana/
A teeny town located in Central Montana,Martinsdale is a quick trip for those appreciative of Montana traditions. The Bair Family Art Museum is a true treasure of Montana's history. The estate, museum and grounds sit in between the Crazy Mountains and Castle Mountains along the Upper Mussellshell River. The art museum features a Native American artwork collection you won't find anywhere else. You can also tour the Bair Family home and even take home a treasure from the gift shop.
7. Geocaching in Helena

Photo: Helena, Montana http://www.helenamt.com/montana-fires/
Geocaching is a fun filled, family adventure and Helena has some of the best geocaching in the country. Geocaching is a modern-day treasure hunt involving GPS coordinates and a smartphone app. http://www.helenamt.com/geocaching/
Did you know Helena is almost exactly halfway between Yellowstone National Park and Glacier National Park? Enjoy a stop in Helena in-between your national park adventures and take in some of city's rich history of politics.
8. Anaconda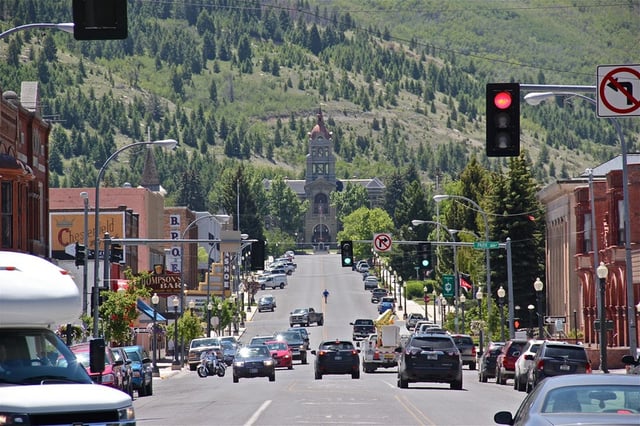 Photo: Anaconda, MT http://traveltempters.com/montana/anaconda/
Anaconda is smack in the middle of the Deer Lodge National Forest and sits a mile above sea level. With stunning views of the Pintler Mountain Range, Anaconda is great place for an adventure. Anaconda has some great history and once was in the running to be the state capital of Montana before Helena won under suspicious circumstances. Once home to the Anaconda Copper Company, its Smoke Stack is now a State Park on the National Register of Historic Places. However, you can only view this ominous structure from a distance.
Old Works Golf Course is one of America's Top 100 Public Courses and is located right in Anaconda. Old Works Golf Course has been reborn on the site of Anaconda's historic century old copper smelter. Jack Nicklaus incorporated many historic relics in his signature design. With its affordability, course conditioning and friendly service, Old Works has built a reputation as one of the premiere daily fee golf experiences in the Northwest region.
Traveling does not have to be expensive or exotic. There are tons of things to do right here in our great state of Montana. I have listed a few of our favorite day trips, but I would love to hear which are your favorites.
Planning a road trip this summer? Make sure you have your budget in place by downloading our Budget Worksheet!
If you enjoyed this blog, take a look at some of our other related articles:
<<< Return To Blog