Get your finances straight with our FREE budge worksheet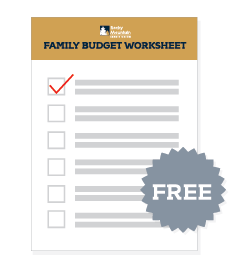 If you need a little help organizing your expenses, paying down credit card debt or maybe planning for an amazing family vacation, we can help! Download our FREE Budget Worksheet and start plugging in your information.
This budget sheet will help you keep track of just about EVERYTHING including:
Wages/Salary
Monthly Savings
Home Expenses
Transportation Expenses
Entertainment Expenses
Regular Living Expenses
Health Expenses
Debt
Vacation Planning
Download your worksheet today and get working on achieving your financial goals!