There's plenty to do around Bozeman, especially if you know where to go! Before the snow swirling at your feet can be counted by inches take a day road trip or two… or eight. If you leave from the middle of Bozeman, the furthest of our trips is only three and a half hours. The closest? 30 minutes. Each of these weekend adventures has lots to do and see, without the high price tag.
Blackmore Lake Trail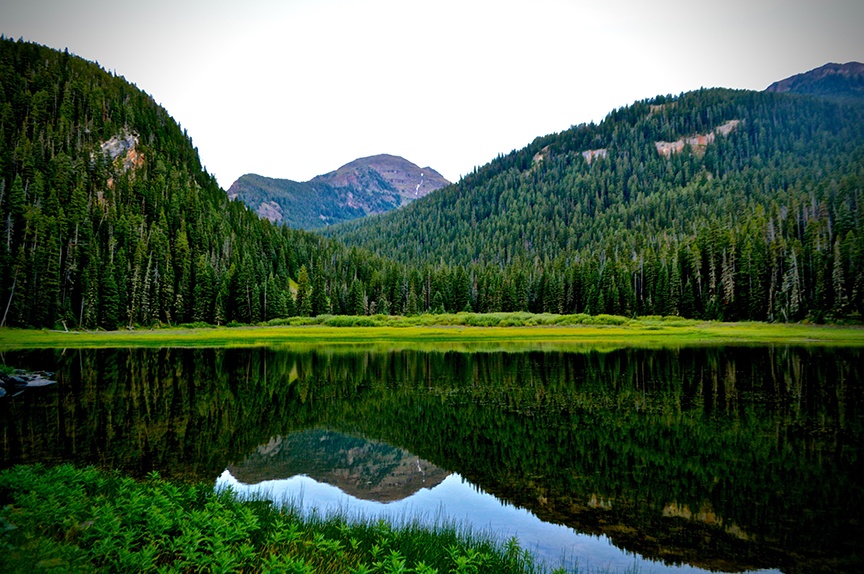 Photo Courtesy of: Outside Bozeman
First up is Blackmore Trail, also called Blackmore Lake Trail. Right outside of Bozeman on your way to Hyalite Reservoir, this one is very close to home. This trailhead will offer three different hikes that vary in intensity. The easiest part of the trail is the beginning through the forest but continues to increase in intensity as you continue. The trail to the lake is rated as moderate and if you continue to the peak, the rating increases further to difficult. At the top, you will be rewarded with wonderful 360° views and the occasional mountain goat. Just be sure to bring water, it can be quite a workout.
Jim's Horn House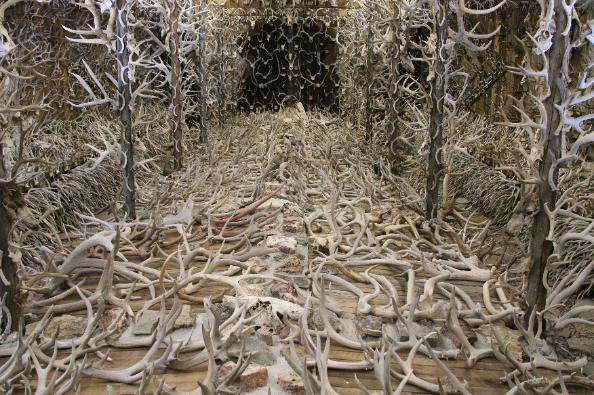 Photo Courtesy of: Antlerman
How long does it take one person to collect 16,000 antlers? To find out the answer head to Jim's Horn House. These 16,000 sheds are intact and on display in a pole barn. The trick to seeing these horns is you need to be invited (he's usually open to visitors, but you need to email him and ask first). If you are lucky enough to be invited he, will give you the location. Jim has a website, Antler Collection, with stories he has written to give you a better idea of what this mountain man is all about!
Bleu Horses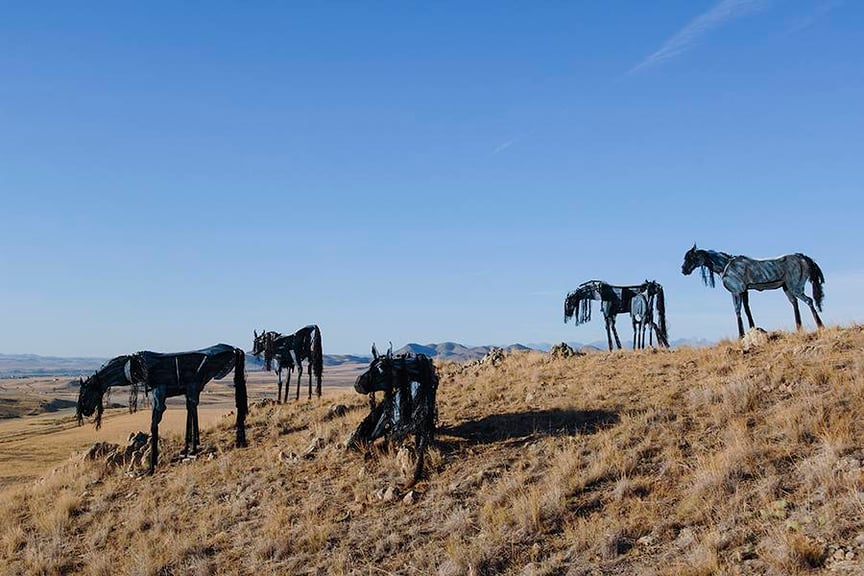 Photo Courtesy of: Bleu Horses of Montana
While you are in the Three Forks area look for the Bleu Horses. Once you find them, you will see 39 steel sculpted horses. High on the ridge, these majestic creatures have tails and manes blowing in the wind. Bozeman sculptor Jim Dolan knew that Kamp Hill was the perfect location to depict an icon Montana image. One recommended viewing spot is the southbound turn around on Highway 287, 4 miles north of Three Forks.
Ringing Rocks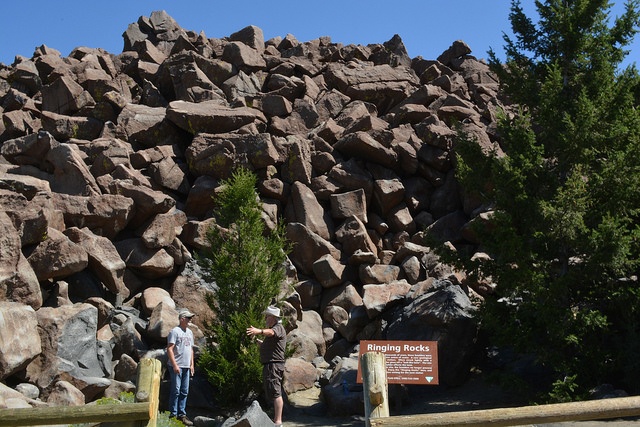 Photo Courtesy of: Bureau of Land Management
Another great weekend day trip is the Ringing Rocks. About an hour and a half northwest of Bozeman will land in you Whitehall. Bring a hammer and listen to the rocks chime. It took thousands of years for these rocks to form and they each have a different bell tone. For the best tones, one adventurer recommends using old railroad spikes against the rocks. Most visitors recommend a vehicle with good clearance. Bring water and food because there are no services at the Pipestone exit. Most importantly do not remove any rocks. They will not play a tune for you at home.
Cliff and Wade Lakes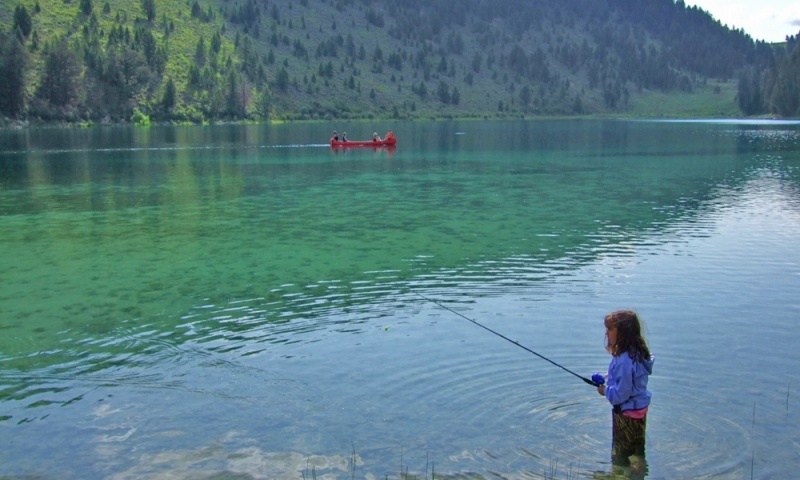 Photo Courtesy of: West Yellowstone Montana
Ennis is about an hour drive from Bozeman but allow for another hour to reach Cliff and Wade Lakes. The water often described as emerald in color. Because they are spring fed, the lakes stay clear and give you excellent views to the colorful boulders and trout below. Fish, canoe, kayak or take the interpretive trail. Wade lake is wake-free allowing paddleboarders to enjoy its beauty. For more information, check out a fly fisher's opinion on the lakes.
Lost Creek State Park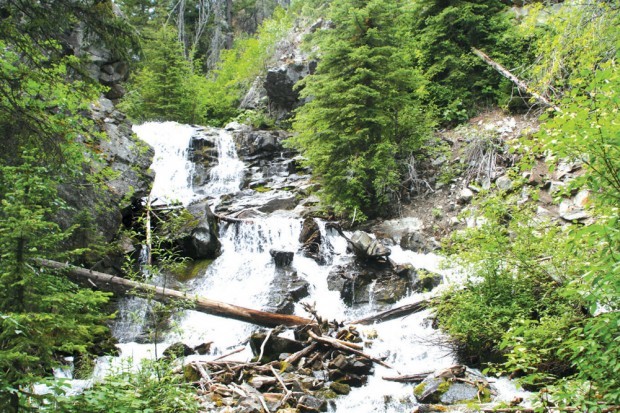 Photo Courtesy of: Montana Standard
Instead of south, head northwest to Lost Creek State Park. Located in the Anaconda Pintler Wilderness this park has a 50-foot waterfall, awesome views, and varied hiking. Pink and white granite formations contrast with grey limestone cliffs showcasing the role geology has played in the greatness of Montana. Aspens in their fall glory and the chance to see both mountain goats and bighorn sheep means there is something for everyone at Lost Creek State Park. Prairie Populist has an informative write up if you are looking for more information.
Pictograph Cave State Park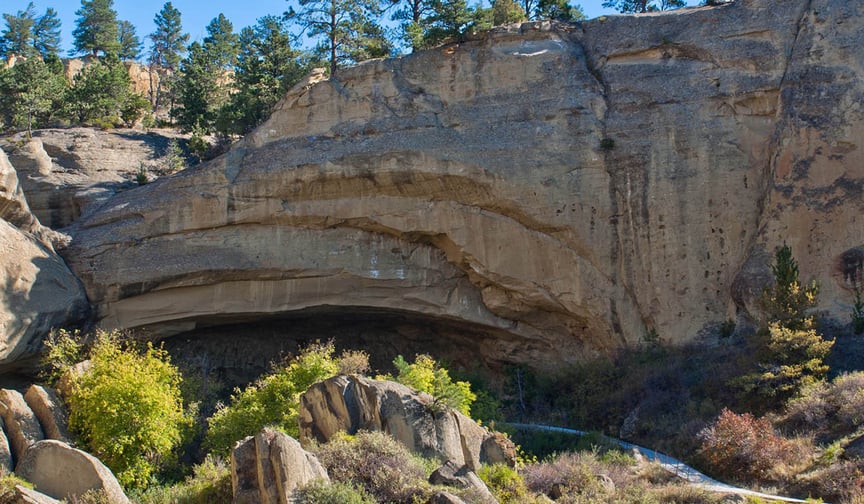 Picture Courtesy of: Visit Montana
If 2,000-year-old art appeals to you Pictograph Cave State Park should be your destination. Water and wind-carved sandstone cliffs into three different caves. The drawings tell stories through images of hunters and animals. Displayed at the visitor's center are a few artifacts from the caves. These include instruments, stone tools, weapons, and some paintings. Important: Bring binoculars to get a better view the rock art.
Garden of One Thousand Buddhas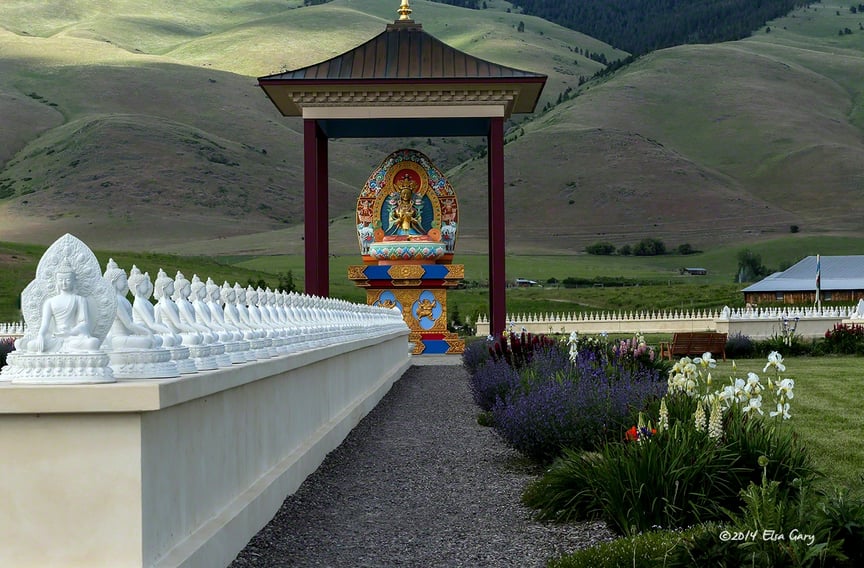 Photo Courtesy of: Garden of One Thousand Buddhas
The furthest of the destinations, Garden of One Thousand Buddhas is located on the Flathead Reservation north of Arlee. After a scenic three-and-a-half-hour drive, recharge your inner feelings of joy, wisdom, and compassion. This International Peace Center helps you reach this desired state through meditation and quiet.
One thousand hand cast, Montana-made buddhas are on site purposefully placed. One thousand stupas (domes) are also arranged. These arrangements "align positive properties of the physical world in a sacred architectural arrangement based on the eight-spoked Dharma Wheel." The center offers weekly practices, retreats, an annual Tibetan cultural festival, and an annual peace festival.
If you're looking for weekend adventures or day trips to take, these should definitely be on the top of your list. Get out and enjoy these things to do this fall before the cold and snow of winter kick in.
If you've liked what you've been reading, we recommend these other blogs:
<<< Return To Blog