Did you know the average home price in Montana is $223,414 (According to Zillow). That might seem pretty reasonable if your a regular Joe like us, but sometimes we like to day dream (and surf the internet) about the kind of homes we would like to buy if money is was no problem. Take a look at some of the most enviable real estate across the state and let us know if you're ready to invest a cool million or fifteen in the dreamiest of dream homes.
922 Mill Creek Road Pray, MT 59065. $15,900,000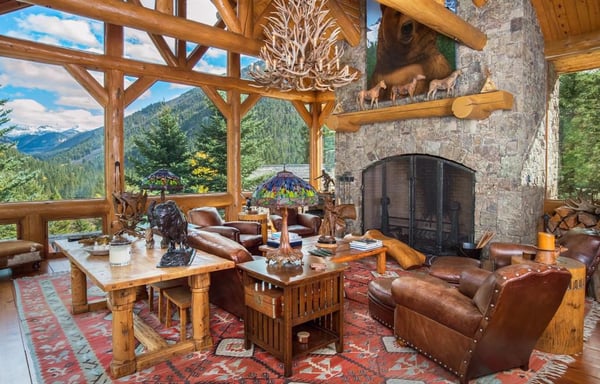 Montana's Paradise Valley offers the unique 5 Bar 6 Ranch. An extraordinary 240 acre property that includes world class fly fishing along 2 miles of Mill Creek. This grand ranch includes deluxe equestrian facilities. Privately located this all-inclusive ranch offers luxurious living only 25 minutes from downtown Livingston. The main house is gorgeous with architectural details and fine living details. With two other well- appointed homes and two classic cabins the property hosts 17 beds and 18 ½ baths.
The main house features a great room with floor to ceiling windows and vaulted timbered ceilings. Gracing the room's center is a hand crafted stone fireplace. Stone fireplaces are strategically located throughout the home including in the kitchen, dining room, study, billiards room, and bedroom. The top-of-the-line chef's kitchen with premium finishes and fixtures has an adjacent bar and prep area that facilitates entertaining a crowd of any size. A home theater, wine room, and jetted tub help to ensure that all needs are met. This is an unparalleled opportunity to live your Montana dream.
https://www.zillow.com/homes/922-Mill-Creek-Rd,-Pray,-MT-59065_rb/
1818 Moose Creek Road, Butte, MT 58701. $1,895,000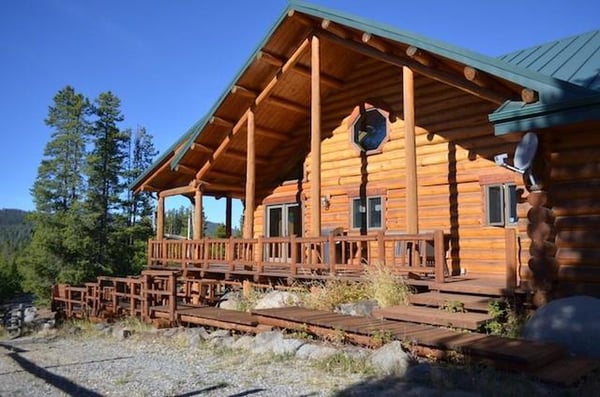 Secluded 160 acre retreat located in Deer Lodge National Forest is only 15 minutes from the Butte airport. Custom built log lodge is accessible year round. When entering the great room the hand selected stone and timber fireplace (one of two) beckons you close to warm your hands and admire the handiwork. Radiant heat under ash hard wood floors carries you from the open timbered 2- story great room to the well- appointed kitchen featuring Jen- Aire stainless steel appliances. French doors from the kitchen lead to the large deck overlooking the forest where you adventures await. The 40' x 60' garage with spacious attached shed houses all your outdoor toys and gear. A spring fed pond and access to the Continental Divide Trail are additional benefits of this property that makes hunting, fishing, and snowmobiling a part of your reality.
https://www.zillow.com/homes/1818-Moose-Creek-Rd,-Butte,-MT-59701_rb/
6250 Danas Point Drive, Helena, MT 59602. $1,295,000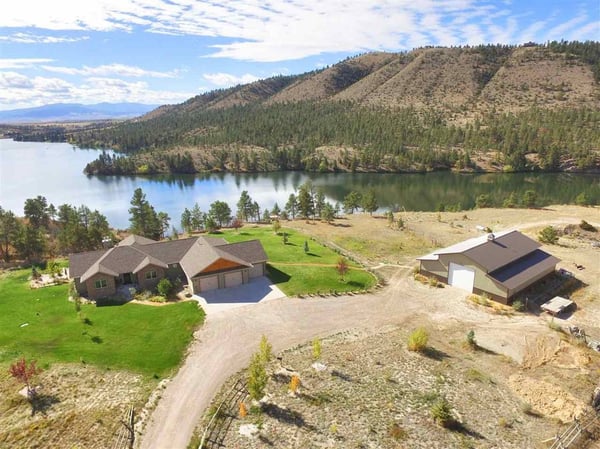 This exclusive peninsula location on Hauser Lake offers a custom built home on 20 private acres. The ¼ mile long shore line includes your own boat dock. The spacious 5000 + sq. foot home is complemented by the 3200+ sq. foot large stall horse barn. The great room, complete with expansive windows enables you to take advantage of the endless views while enjoying the stone fireplace. The wood floors in the great room carry you to the well- appointed kitchen complete with stainless steel appliances. Views from every room means that while in the master bedroom on suite you won't miss a minute of the outdoors while relaxing in the soaking tub. Three bedrooms in the walkout basement have their own kitchenette with French doors opening to a stone terrace and lake views. This energy efficient home is a once -in-a lifetime opportunity to own a lake frontage horse property.
https://www.zillow.com/homes/6250-Danas-Point-Dr,-Helena,-MT-59602_rb/
8344 Whisperwood Trail Helena, MT 59602. $2,250,000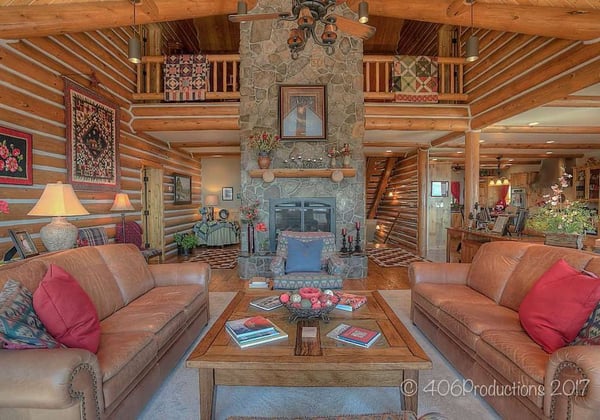 Secluded and wooded too, this classic log retreat is located on 43 acres. Offering 5 bedrooms this home is rich with detail. The expansive entry way with vaulted ceilings welcomes you into the beautiful interior. You may linger at the custom stone fireplace or be drawn to the expansive valley views. Sliding glass doors access the wraparound deck. Entertain family and friends on the deck that offers a large stone fireplace and ample seating. The custom designed kitchen makes entertaining a breeze and the elevator will carry your supplies from the garage to the kitchen. Pride of craftsmanship is evident both inside and outside of this beautiful, energy efficient mountain home.
https://www.zillow.com/homes/8344-Whisperwood-Trl,-Helena,-MT-59602_rb/
416 N. Ewing Street Helena, MT 59601. $1,750,000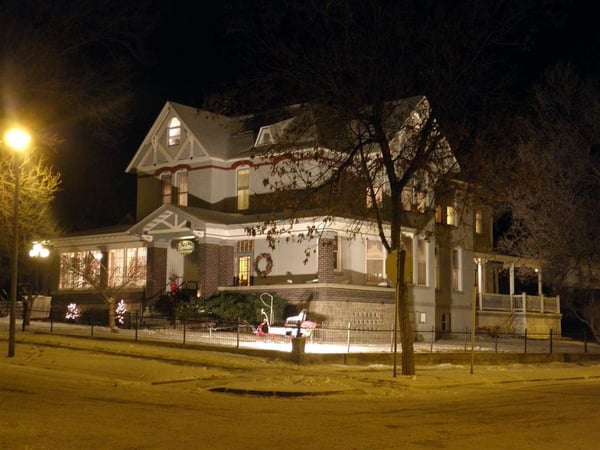 A walkable neighborhood and historical too is what you will find in this capital city manor. Architectural features have been preserved in this impressive 1880 Queen Anne mansion. Complete with a carriage house that has been converted to guest quarters. The graceful entry is flanked by a deep covered porch that evokes memories of days gone by. The first floor includes a large parlor and dining room with a preserved custom ceiling medallion. A delightful all season sun room located on the first floor is walled with windows. Each room has a historical detail to discover. The mansion includes 5 original fireplaces, stained glass and transom windows as well as tin ceilings and hand painted crown moldings. This mansion provides the owner with the opportunity to preserve Helena's great history while participating in its future.
https://www.zillow.com/homes/416-N-Ewing-St,-Helena,-MT-59601_rb/
3838 US Highway 89 South Livingston, MT 59047. $1,750,000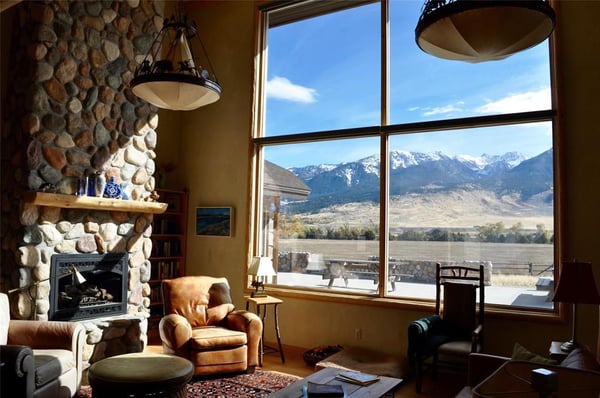 53 acres in the breathtaking Paradise Valley becomes irresistible when it includes 1100' of Yellowstone River frontage with boat launch access. This custom home with wall to wall windows showcases sweeping views to the river. Livingroom features include a stone fireplace and vaulted ceiling. Open design kitchen with stainless steel appliances features soapstone countertops. Main floor master suite has private bath with dual vanities, walk- in tiled shower and a walk- in closet. Enhancing the master suite is a fireplace and views towards the river. Sliding glass doors offer direct access to the large deck. The large deck with panoramic views is perfect for entertaining and includes a fire pit and hot tub. The upstairs also offers a master bedroom with bath and a private balcony. Privacy, views, and the Yellowstone River offer a dream lifestyle or perfect vacation getaway.
https://www.zillow.com/homes/3838-Us-Highway-89-S,-Livingston,-MT-59047_rb/13_zm/
350 Greenhills Ranch Road, Bozeman, MT 59718. $7,650,000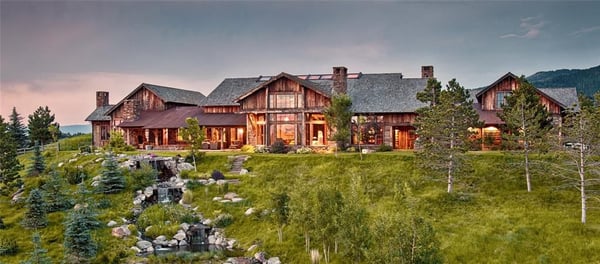 Close to Hyalite Canyon and minutes from downtown Bozeman this 100 acre working farm offers privacy and amazing beauty. No detail has been overlooked in the 8400 sq. foot main home. Reclaimed and hand hewn beams grace the entry way. Walk across antique oak sawn floors to admire the handiwork and textures of the grey stoned custom fireplace. Large windows and a vaulted ceiling further accent the living room while you enjoy panoramic views of your pastures and the mountains beyond. The gourmet kitchen features high end appliances, custom finishes and antique lighting. Step out onto the beautiful stone patio complete with stone fireplace and custom Jacuzzi. Tour your property to the delightful sound of waterfalls as they feed a series of ponds before ending at a 3- acre trout stocked pond.
The guest house is 3900 sq. feet. A small farmhouse and two cabins round out the living options. Several barns, paddocks, horse shelters, a large shop, detached 3 car garage, and a smoke house all contribute to the working farm.
https://www.zillow.com/homes/350-Greenhills-Ranch-Rd,-Bozeman,-MT-59718_rb/
850 Candlelight Drive Bozeman, MT 59718. $2,900,000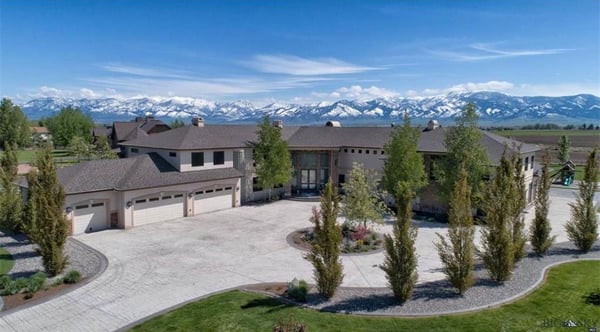 Downtown Bozeman is an easy 20 minute from this contemporary home on 3 ¼ acres. Luxurious spacious home is made for entertaining. An indoor waterfall greets you at the entry. The two story ceiling with floor to ceiling windows fills the great room with natural light while offering spectacular views of the rolling plains and snowcapped mountains. Viking appliances and granite countertops complete the gourmet kitchen. The in-door pool offers breathtaking views through wall to wall windows that can be enjoyed while lounging poolside. Additional lavish features include a theater room, a sauna, and accommodations for the au pair.
https://www.zillow.com/homes/850-Candlelight-Dr,-Bozeman,-MT-59718_rb/
725 S. Wilson Avenue Bozeman, MT. 59715. $1,650,000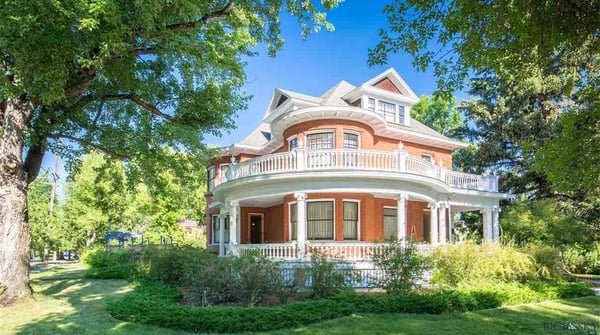 Enjoy the walkable community that friendly Bozeman offers while living in the historic Bon Ton district. The community's most recognizable Queen Anne style mansion built in 1906 is waiting to be your new home. The classic covered veranda is waiting for your porch swing. Upon entry you are immediately struck by the rich patina of tiger oak woodwork. A distinctive exterior detail, the curved oversized windows lend charm inside the mansion. Carved moldings, arched doorways, and the original mantle contribute to the stately style while the expansive rooms enhance the open floor plan. The remodeled kitchen with stainless steel appliances and Thermador range will make entertaining a breeze. The master suite is new and offers a private retreat with second story views of downtown Bozeman. The fenced yard offers privacy.
https://www.zillow.com/homes/725-S-Willson-Ave,-Bozeman,-MT-59715_rb/
133 Village Crossing Way Bozeman, MT 59715. $1,775,000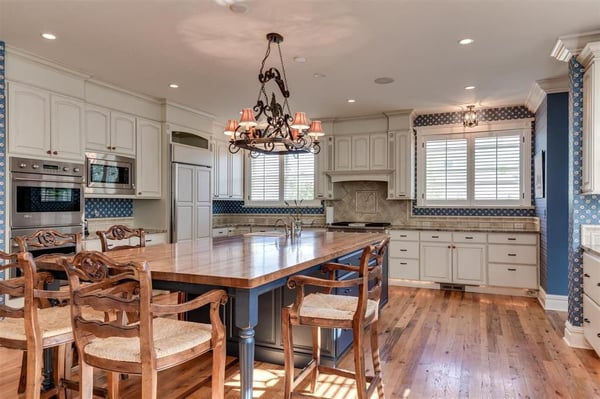 Gorgeous home close to Lindley Park and all that downtown Bozeman has offer. Masterful design and modern luxury beckon from the landscaped and carefully manicured exterior. Upon entry a sweeping center staircase welcomes you to further exploration of the home. Spacious rooms are filled with natural light. Wainscoting, fireplace, and plantation shutters are just some of the tastefully chosen features. Top-of- the line chef's kitchen has premium finishes and fixtures with adjacent butler pantry and wine bar. The lavish master suite with beautifully appointed bath and large walk-in closet are part of the thoughtful design that enables the owner to live entirely on the main floor. Seamlessly move from the master suite to the covered patio and hot tub. Outdoor living is complete with a wood burning fireplace and opulent private gardens. Ensuring privacy for all, guest suites and an additional laundry room are located on the second floor. Two finished bonus rooms above the garages assure living is easy for everyone.
https://www.zillow.com/homes/133-Village-Crossing-Way,-Bozeman,-MT-59715_rb/
Alright so maybe your "Dream" home is a little out of your reach. At RMCU we can help you find the right home to fit in with your dreams. Take a look at everything you need to know about the mortgage process by downloading this FREE guide.
<<< Return To Blog