Drive Into RMCU for Auto Loan Deals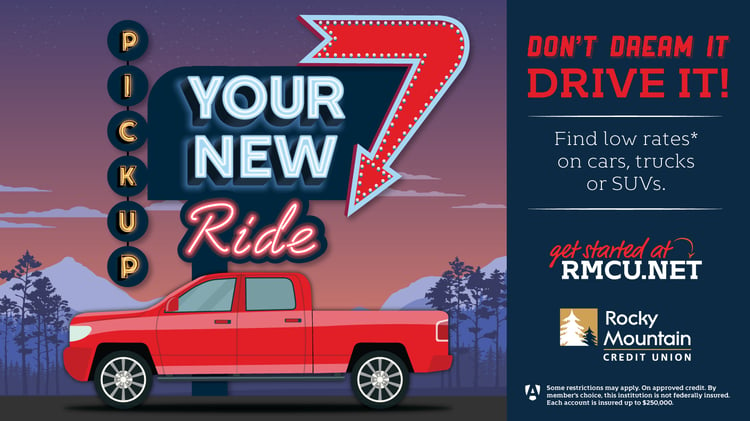 Drive-in movie theaters, carhop burger joints, and full-service gas stations may be a thing of the past, but American's love of cars is still going strong. Keeping up with today's car values requires you to get the best car loan your budget can handle. With great rates and services like GAP insurance and Mechanical Repair Coverage, RMCU works hard to help you get the most out of your purchase.
Maybe it's not just a car. Perhaps you are in the market for a camper, an RV, motorcycle, or a new off-road vehicle. We pride ourselves on being local people who make local decisions about the members of our community. Start the application process online or come to a local branch and get to know us.
Lett us help you get your best rate on a new car, truck or SUV! Whether you're refinancing an existing auto loan or looking to upgrade, get your custom rate by starting your application online. Fill out the form on the right to get started. After all, you can't hit the drive-thru on a bicycle.
Happy Motoring!
*On approved credit. Some restrictions may apply. By member's choice, this institution is not federally insured. Each account is insured up to $250,000.


†All new accounts are verified with ChexSystems *On approved credit. Some restrictions may apply.
NMLS# 585490